Our company offers a wide range of products from different vendors, ranging from measuring instruments, through machine tools , deburring tools and clamping systems to tachometers. We are able to install and configure all of these products and train the user to calibrate the lengths and angles set in our accredited laboratory.
We offer various types of labels for different brands, and we sell our own papers and films as well.
For production and storage buildings, corridors and other areas, we mainly recommend solid floorboards made from recycled PVC for external and internal use, and we protect equipment used in most production plants which are dependent on the supply of fresh air through the Velum filter.
Close cooperation with our suppliers guarantees customers expert technical support, rapid response times when making offers or orders or when settling complaints.

Since 1990, our company has been an authorized dealer of accurate measurement equipment from the Japanese brand MITUTOYO.

The company, which we represent in the Czech Republic, offers systems for accurately measurement under the name 3D - TASTER. This system allows you to quickly, accurately and easily find the required informations.

We are also authorized dealer Production measurement technology made in Germany MAHR.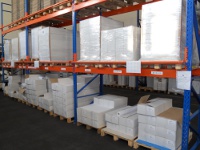 High quality
Low prices
Possibility to transport or send by mail
Possibility of discounts for large orders
Within the constantly increasing quality of the services provided, we offer you the cutting of paper and other materials on cutting machines.